Today, we produce around 400 million tonnes of plastic waste every year, and despite our current efforts, it is estimated that 75 to 199 million tonnes can be found in our oceans. Shocking we know!
And even though many of us are doing a great job of sorting our rubbish - less than 15% of all plastic packaging is collected for recycling after use and vast quantities escape into the environment.
But how do we convince our nation's leaders to take action on this issue and support a 50% reduction in single-use plastic by 2025?
We empower young people.
THE EVENT
On Wednesday 15th June, Common Seas joined The Big Plastic Count's Youth Empowerment Day alongside Greenpeace and Everyday Plastic.
34 students from 10 schools and community groups headed to parliament to lobby their local MPs on the issue of plastic waste. The students took part in a range of workshops in preparation for their meetings, which would help them identify the next steps for acting on plastics at school and at home.
The event was a huge success with the children securing support for a 50% reduction in single use plastic from MPs, including former party leaders Theresa May, Ed Miliband and Sir Ian Duncan Smith.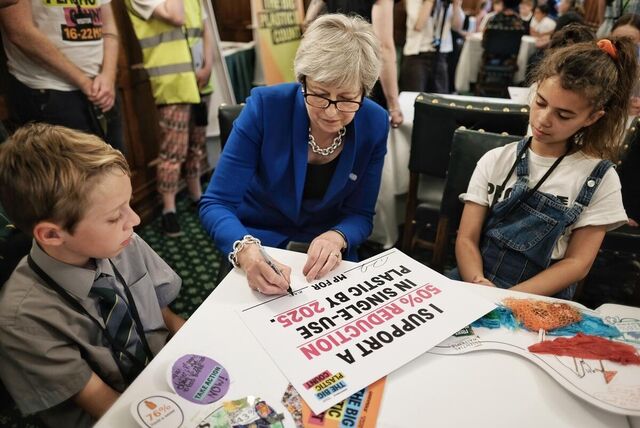 Theresa May, Conservative MP for Maidenhead and former Prime Minister meets children in the House of Commons. Photo Credit © Greenpeace.


WHY WE WENT?
Common Seas is an official education partner of The Big Plastic Count, providing a legacy of action to tackle single use plastic in schools through our student-led programme, Plastic Clever Schools.
Created in partnership with charity Kids Against Plastic, Plastic Clever Schools helps radically reduce plastic waste through three simple stages: 1) Inspire 2) Investigate 3) Act - with young people at the heart of each process.
At the event, Common Seas delivered a closing workshop, celebrating the power of young people across the country, and challenging them to continue their journey to become Plastic Clever.
THE OUTCOME?
On the day, the children were full of courage and determination as they delivered their message to MPs, along with hand-made works of art.
For the children, the event was proof that their voice and action have the power to affect real change - we're sure it's a day they'll never forget.
For Common Seas, it was a perfect example of why a youth-led approach is so essential. Children care deeply about the environment which is why we need to equip them with the knowledge, skills and confidence to become active citizens and change-makers. Plastic is a perfect platform from which to dive into a wider view on sustainability and empowering young minds to explore these interconnected issues will enable them to become part of the solution.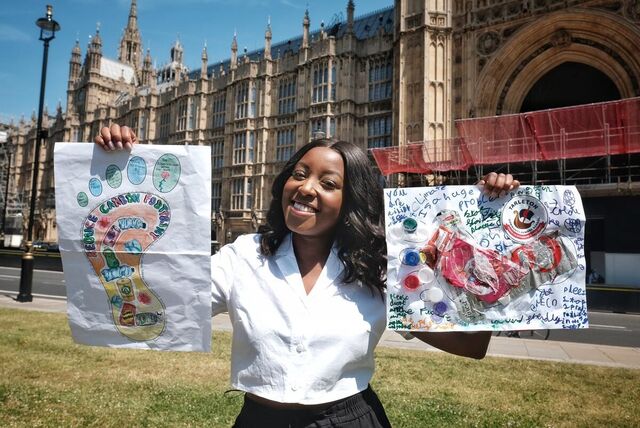 Children's TV presenter Mwaksy (Mwaka Mudenda) joined the children on the day. Photo Credit © Angela Christofilou / Greenpeace

SO WHAT'S NEXT?
So far, more than 450 schools have started the process to become Plastic Clever, but we have ambitions for every school in the UK to join the challenge. Imagine what could be achieved if more than 32,000 schools and over 10 million students had the opportunity to kick-start their community's journey to a plastic waste-free future.
Signing up is easy, and schools that joined in with The Big Plastic Count already have all the evidence they need to complete the first stage.
If you want to find out more or register your school, simply visit PlasticCleverSchools.
Headline image / Children from schools around the country are invited to Westminster for a day full of plastic and politics-themed fun, having taken part in the Big Plastic Count / Photo credit - © Angela Christofilou / Greenpeace