Πατήστε εδώ για Ελληνικά
We want to help everyone on Paros stop drinking plastic bottled water. This guide contains everything you need to know to switch to the best plastic-free option for you and your family.
This guide was written by Clean Blue Paros as part of our #DrinkTapWater campaign. We work closely with DEYAP (the island's water company), but we're an independent organisation. For more information on us visit Clean Blue Paros or Common Seas.
Contents:

1. Tap Water
2. Water Filters
3. Water Filters: Pros and Cons
4. Water Machines
5. Bibliography

1. Tap water
The tap water on Paros is safe to drink!
Paros tap water is much better quality than the EU requires for drinking water – everywhere on the island, and at any time of year.
It is constantly monitored by DEYAP (Municipal Water & Sewage Paros Company) and regularly checked by independent organisations.
You can find out lots more about Paros' water on the DEYAP website.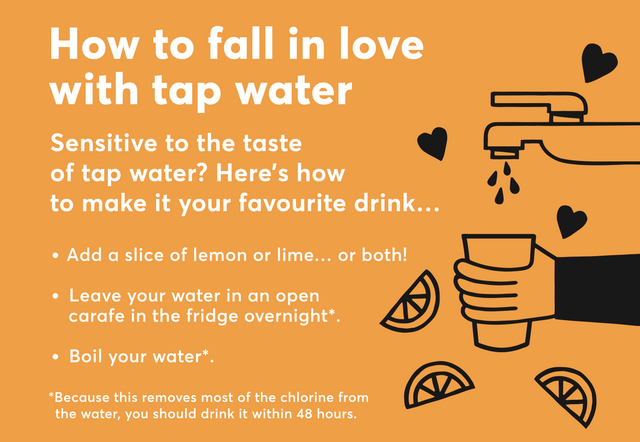 2. Water Filters
How to choose a water filter that's right for you.
Although drinking tap water has the least impact on the environment, drinking filtered water is the next best option. There are many different types of water filters, each with advantages and disadvantages.
Choosing the right filter for you depends on your needs, priorities and how much you can afford. Use the table below to get an overview or read through our short guide.
Why some people use a water filter
Although the tap water on Paros is safe to drink, some people choose to use a water filter. Here are a few reasons why:
they are particularly sensitive to the taste of minerals or chlorine in the water
they live in an area with lots of sediment from limescale – which is harmless but unattractive
maintenance on the water network can cause temporary turbidity (cloudiness), which some people prefer to have a filter for. However, letting the water run will usually clear this turbidity.
Water is more than H2O
Water contains lots of different compounds - some occur naturally, and some are from human activity. Paros tap water contains only safe limits of these compounds. To check what the water contains in your area, see our tap water PDF.
If you already know what you want to filter out of your tap water and how much you want to spend, use this table to find the right filter for you. The number of *'s indicates how effective the filtration is for that compound.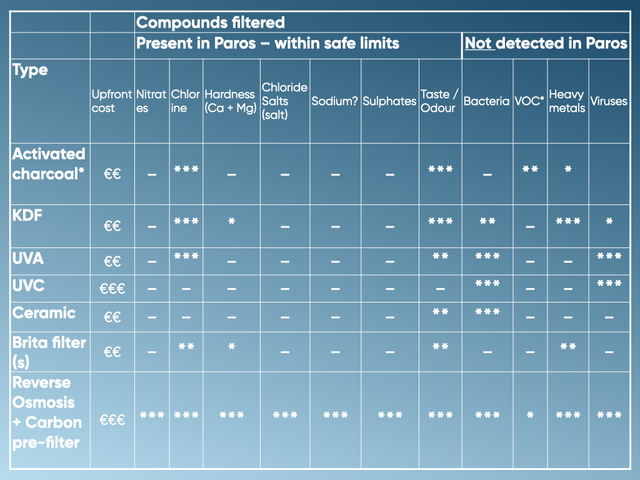 * High-quality carbon blocks can also remove microplastics, lead, nitrates and many other contaminants.
* VOC means 'Volatile Organic Compound'. These substances are linked to human activities and there are many different types – some are harmless, some are harmful in high concentrations.
3. Water Filters: Pros and Cons
Activated Carbon Block €€
How it works
Blocks are made from activated charcoal reduced into a powder and compacted.
Uses raw organic materials (such as coconut shells or coal) that are high in carbon. Carbon is uniquely efficient because of its thousands of tiny absorbent pores.
Can also use secondary media (like silver) to prevent bacteria growth.
Pros
Activated carbon filters remove chlorine, sediment, VOCs, taste and odour from water.
High quality carbon blocks can also remove microplastics, lead, nitrates and many other contaminants.
Preserves healthy minerals like calcium and magnesium.
Cons
Depending on the quality of the carbon, it won't filter nitrates and some smaller contaminants. (But this is only a problem if there are nitrates, viruses and bacteria in the water!)
Activated carbon (granules) €
How it works
Activated carbon granules work the same way as a carbon block. Granules are less effective because they have less surface area, but they provide great value basic filtration.
Kinetic Degradation Fluxion (KDF) €€
How it works
The copper, zinc and brass in KDF filters react with water contaminants and remove bacteria, chlorine, lead, mercury, iron, and hydrogen sulphide. This filter can be used alongside other filters, and is often combined with activated carbon on the Greek market.
Pros
Strong antibacterial properties, outranking silver-infused filters.
Mildly anti-algal, anti-fungal and may reduce lime scale formation.
Cons
Does not remove organic chemicals like VOCs.
UV-A €€
How it works
Exposes water to UV-A light, destroying chlorine and generating free radicals which can purify water from other contaminants - including traces of medication, bacteria and traces of pesticides.
Pros
Purifies tap water in 15 minutes.
Cost effective - purifies 1,000 litres of water for €1.5 of electricity.
Some models last 10 years without replacement or maintenance.
Cons
Rare in Greece, better ordered from France.
UV-C filters €€
How it works
Exposes water to UV-C light and destroys the ability of any microorganisms present to function or reproduce. UV filters don't remove calcium or magnesium - an advantage if you want healthy mineral content but a disadvantage if your aim is to reduce water hardness. These filters are often used in combination with sediment filters and activated carbon filters.
Pros

No chemical by-products.
Faster than chemical or boiling methods.
Research shows at least 99.9% efficiency at removing bacteria and viruses.
Cons
Does not remove toxins or heavy metals.
Recontamination possible (common to all non-chemical methods).
Water needs to be clear because any turbidity can weaken the UV radiation (pre-filtering may be needed).

Ceramic €€
How it works
Water flows through small pores in ceramic material (typically ½ a micron) which filter contaminants like bacteria and sediments. Ceramic filters can be combined with other filter materials to remove chlorine or heavy metals.
This system of filtration imitates the Earth's natural water purification process. Just as water from aquifers seeps through layers of rock as it makes its way to streams, the water in a ceramic filter permeates natural media to rid itself of impurities.
Pros
Versatile.
Some models can be washed and re-used.
Cons
Not appropriate for some heavier contaminants (including viruses and VOCs).
Brita filter €€
How it works
These cartridges combine activated carbon and ion exchange resin. The water flows through a mesh to catch any specks, and then the activated carbon 'soaks up' the chlorine taste and mercury. Finally, the ion exchange resin captures copper, zinc and cadmium.
Pros
Low starting cost.
Preserves healthy minerals.
Cons
Expensive in the long term because of frequent cartridge changing.
If cartridges are not changed properly and regularly, they may accumulate bacteria.
Reverse osmosis €€€
How it works
Home reverse osmosis systems can include one or more activated carbon and sediment filters. Pre-filters remove sediment, chlorine, trihalomethanes and VOCs. Next, the water passes through a semipermeable membrane that blocks particles larger than water molecules.
Reverse osmosis also reduces hardness which can help with maintenance of sensitive appliances. But if you just want to reduce hardness for your appliances, a water softener is much easier, cheaper and less wasteful.
Pros
Eliminates on average 90-99.9% of contaminants.
Removes hardness effectively, which may be preferable for certain cases.
Cons
Typically wastes two times more water than it produces.
Requires frequent checks and maintenance from experts.
If not properly maintained, the system can 'overperform' and completely demineralize water – which can itself lead to a number of adverse health effects.
Requires a certain water pressure to work.
Slow process.
Expensive.
Water softener (ion exchange) €€€
How it works
Forces water through a microporous ion exchange resin. Calcium and magnesium ions bind with the resin and are exchanged for sodium ions. Ion exchange water softeners regenerate their resin by flushing it with a salt solution to release the bound calcium and magnesium ions. Often used in combination with a sediment filter to protect the mechanism.
Pros
Very effective at removing calcium and magnesium, reducing water hardness, which can help in the maintenance of certain appliances such as professional coffee machines, or for preventing blockages in home heating systems.
Cons
Adds sodium back into the water which increases salt content (around 33.3mg/L).
High maintenance, attention and cost required to run.
The used salt solution goes into the main water line, while the hard water requires an extra discharge line (which you would need to provide).
Requires an electrical source to power the regeneration process.
4. Water Machines
Do you know about Paros' drinking water refill stations?
Paros has seven water machines (see our map), which dispense filtered water for a tenth of the price of bottled water.
How it works
These machines are designed to fill large containers with filtered water, so they're ideal for people living on Paros or those who are staying for a while. But you can fill up smaller bottles too!
The price is 0.05 per Litre.
Although you can use cash, a prepaid water card is easier to use. You can get one from DEYAP's office for free.
If you're using coins and they get stuck, please be patient and call the number on the machine.
The water refill machines are all managed by DEYAP, who routinely check their water quality. You can find out more about these machines on the DEYAP website, or on the machines themselves.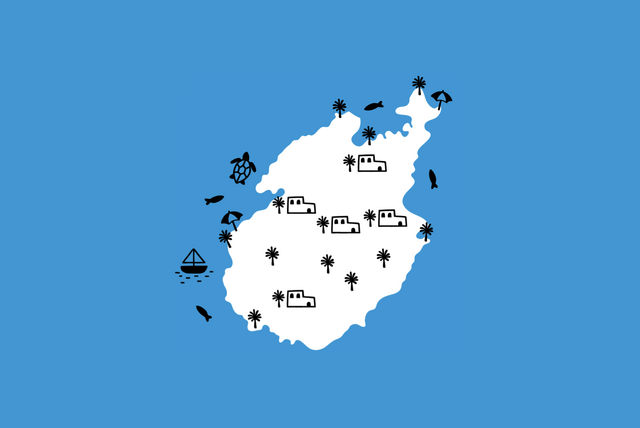 Thank you!
Thank you for taking the time to read this guide.
Together, we can help everyone stop using plastic bottled water and protect Paros from plastic pollution.
If you have any questions, please get in touch with [email protected], or message us via www.facebook.com/cleanblueparos.
5. Bibliography