I've just returned from Portugal, where myself and our Director of Programmes, Ben Jack, spent a busy but very inspiring week at the UN Ocean Conference in Lisbon.

This is the first major conference we have attended since COVID-19 emerged. What a pleasure it was to reconnect with colleagues from around the world, who are all dedicated to saving our ocean and safeguarding our future.
We shared our work to help low-income countries address their plastic pollution problem, using our Plastic Drawdown rapid assessment tool, which helps decision-makers understand the scale of the problem and the right policies to address it. And we highlighted the key issues that must be addressed by the forthcoming Global Treaty on Plastic Pollution – to make sure that it meets the urgency of the plastic pollution problem but does not compromise on delivering a robust and legally binding treaty.
As well as meeting with an extraordinary number of people, we were delighted to co-host two side events during the week.
Event 1: From Ambition to Action: Dialogue on the essential elements of a Global Treaty to end Plastic Pollution

We ran an event with our friends at the Environmental Investigation Agency (EIA), and EIA's Chris Dixon brilliantly moderated discussions to a full house on the priorities for the Global Treaty on Plastic Pollution.
I was joined by Ministers from Rwanda, Ecuador, the Maldives and the United Kingdom, including the former Foreign Minister from Peru, who has been nominated to help oversee the Treaty's negotiation. Also joining the panel was the European Environment Commissioner and representatives from business and academia.
During the lively and constructive discussion, I shared Common Seas' vision to support 10 countries to take bold, evidence-based steps to rid the world of plastic pollution, and become exemplars of the action needed to deliver the future Global Treaty.
Thank you to the EIA for being such an excellent collaborator – and to all the other partners who made this success possible, including the Ocean Plastics Leadership Network (who helped us Livestream to hundreds of people), the Centre for International Environmental Law, and the Commonwealth Blue Charter.
During the event, Maldivian Environment Minister, Her Excellency Shauna Aminath highlighted the support Common Seas has provided to the Maldives over the last four years. This includes using the Plastic Drawdown tool to help the Maldives understand their plastic pollution problem and launch an ambitious Single-Use Plastic Phase-Out Plan.
At the event, we were delighted to formally sign our Memorandum of Understanding with the Maldives Government, which sets out an ambitious next phase of work to help Maldives deliver this plan, including through water refill, policy development, education, and driving down plastic waste in resorts.
You can watch the full event here.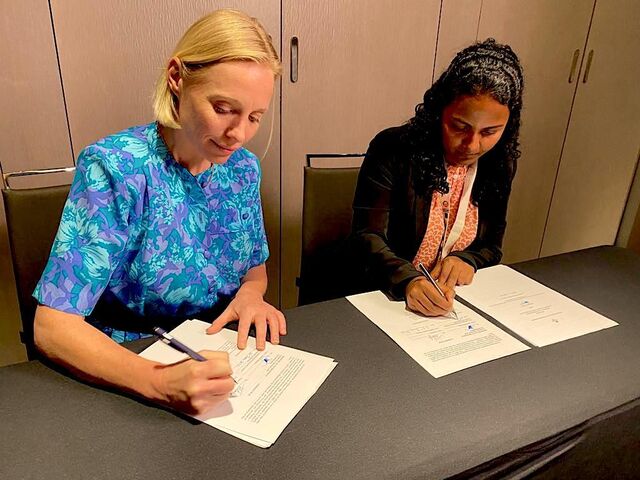 Maldivian Environment Minister, Her Excellency Shauna Aminath and Common Seas CEO Jo Royle signing a Memorandum of Understanding.
Event 2: A deeper dive into a Plastics Treaty - for our Oceans and our Health
Organised with EIA, IPEN and OceanCare, and set at the fantastic Ocean Base Camp, this event provided more in-depth discussion on the major issues that the Global Treaty needs to tackle if it is to eliminate the harm plastic pollution causes to all life – including our own.
Common Seas was represented by Ben Jack, who highlighted how we need a treaty that includes real targets for reducing plastic production and must embed circular economy principles – so that we innovate to end waste at source through refill and reuse, and don't just opt for the more familiar options of material substitution, recycling, incineration and landfill.
Ben also laid out Common Seas' commitment to support the development of National Action Plans, which will require UN member states to set baselines and targets, backed up by requirements to report clearly and transparently on progress.
We'd like to thank all our co-organisers, along with Sciaena, who set up the Ocean Base Camp.
The rest of the week was spent attending main conference sessions and side events, and holding bilateral meetings with countries, funders and potential partners. Not much time to wander Lisbon's beautiful old streets – but lots of time to reenergise, reconnect and get inspired about all the amazing work going on to protect our Ocean. And we did manage to punctuate our busy schedule with quite a few of Portugal's delicious custard tarts!

Jo Royle
Common Seas CEO