Last year, Common Seas brought together 64 organisations in two workshops and conducted 15 stakeholder interviews to debate the meaning of two words: 'avoidable' and 'unnecessary'.
Here's why.
In early 2018, the UK government published it's 25 Year Environment Plan, a 'living blueprint for the environment'. The plan contains a pledge to "eliminate avoidable plastic waste by 2042". Great stuff. A few months later, WRAP launched its UK Plastics Pact, a voluntary initiative that seeks to stimulate a circular economy for plastics. The pledge states that participants will "take actions to eliminate problematic or unnecessary single-use packaging items". Also, great.
But the devil's in the detail. When is a plastic deemed avoidable? Who decides when it becomes unnecessary, and how? (This 'Pointless Plastics' diagram shows some of the breadth of these words in this context).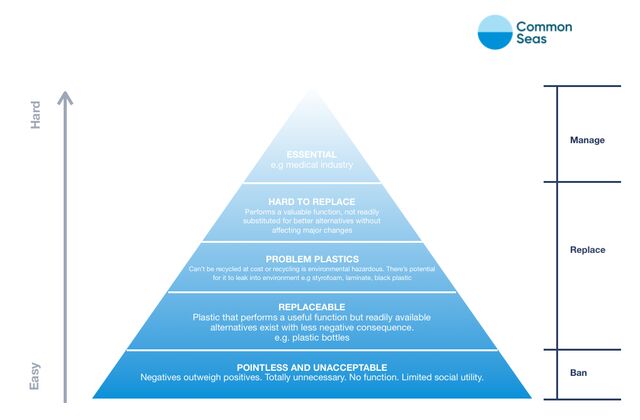 The 25YEP and the UK Plastics Pact aren't just ambitious, they're critical to the UK's plastics future. By debating and defining the meaning of 'avoidable' and 'unnecessary', we can ensure the level of change matches the scale of the plastics challenge, hold industry and government to account, and monitor progress towards shared targets.
We published the findings of our workshops and interviews in a paper, which we shared with several organisations, including DEFRA. As for the meaning of 'avoidable' and 'unnecessary', our two workshops came up with slightly different answers.
Workshop 1:
Avoidable: When an alternative is available that is proven to reduce net costs to society and the environment when the plastic is considered across its entire lifecycle.
Unnecessary: When a plastic's function can be feasibly removed, without a net cost to society, or as a society we decide that its negatives outweigh its benefits.
Workshop 2:
Avoidable: When an alternative exists that have a net positive environmental impact and can be implemented with minimal long-term cost and behavioural change but may require short-term changes to supply chains.
Unnecessary: Where the use of plastic brings no added value to the product or society and can be replaced or removed without significant cost to infrastructure or major behavioural change.



Thank you to Laura Boardman-Miles at Outdraw for the doodles!