Common Seas and Kids Against Plastic have teamed up with Spindrift for Schools to challenge young people worldwide to take action on plastic waste.
Spindrift for Schools co-founders, Dona Bertarelli & Yann Guichard as well as their crew, are about to set sail aboard Sails of Change in an attempt to break a round-the-world record to win the Jules Verne Trophy. To add to the incredible challenge, they are doing it completely fossil fuel-free!

You can find out more about the Jules Verne Trophy attempt here.
In 2016, Dona set a record for the fastest woman to sail around the world. This time, she is taking on a different role as onboard reporter so she can inspire others to join her on this adventure:
"We hope that through our passion and our commitment to nature, we can share knowledge and values to support children as they learn to work together and commit to their future."
- Dona Bertarelli
During their record attempt, Dona and her husband Yann will set multiple environmental challenges for young people including the Plastic Clever Schools Waste and Recycling Challenge.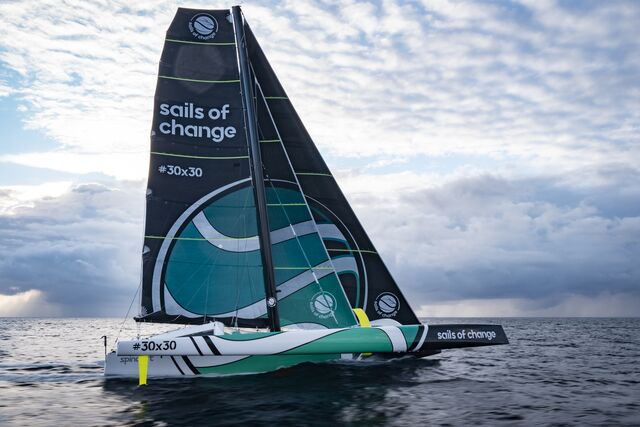 Common Seas and Kids Against Plastic have partnered with Spindrift for Schools to set an international challenge so that young people across the world can learn more about plastic pollution and be part of the solution to stop it.
During the 'Inspire' stage of the Plastic Clever Schools challenge, young people are introduced to plastics in order to learn more about where it comes from, how it's used and why it's so important to become Plastic Clever.
To enter the challenge, schools need to carry out a litter pick to investigate how plastic pollution is impacting their local environment. Then, create a poster to share what they found and what they intend to do about it. More information on how to join the challenge is available here.
The Sails of Change Challenge is in support of #30x30, a global call to action to protect at least 30% of the ocean and land by 2030.
You can follow the journey by visiting the Sails of Change website.