Maldives is uniquely vulnerable to plastic pollution - a tiny country in the middle of the Indian Ocean, with a population that is completely dependent on clean, healthy, abundant waters for its food, wellbeing and livelihoods. However, per capita, the country leaks 3.7kg of plastic waste into the sea, compared with 0.03kg per person in the EU.
Hawwa Nashfa was born and raised in the Maldives and is working to help reduce her country's dependence on single-use plastic – starting with plastic bottles.
"Maldivians are inseparable from the ocean. However, I think a lot of us don't realise quite how unique and vulnerable our country's environment is, or how much our lifestyle choices affect it. I want to help change that."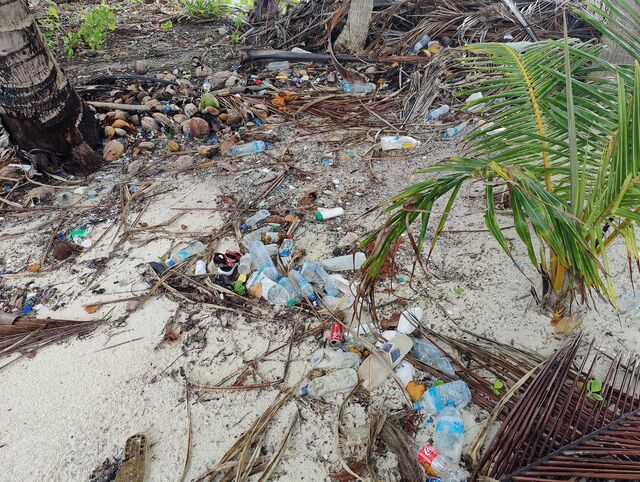 In 2021, Nashfa and her team ran a pilot project that gave 25 households a water filtration system to help reduce their use of plastic bottled water. The project is called Fen Veshi, which roughly translates to mean 'ocean environment'. So far, the project is reducing plastic waste, helping households save money and – more importantly – providing a model that can scale.
But Fen Veshi is just one piece of the puzzle.
A world-leading plan to phase-out plastic waste
In 2019, President Solih of the Maldives made an ambitious commitment at the UN General Assembly to phase out single-use plastic waste by 2025.
Nashfa was the lead author of the Single-Use Plastic Phase-out Plan. Since joining Common Seas in 2020, she has worked to support the Government in fulfilling this landmark commitment. Common Seas is a not-for-profit organisation based in the UK with local project teams around the world.
Achieving systems change
For Nashfa, success requires a top-down and a bottom-up approach. As a policy expert, she is really excited by the potential impact of introducing Deposit Return Schemes and Extended Producer Responsibility, which incentivise businesses and consumers to reduce and recycle single-use plastics and prevent ocean pollution.
But systems change also requires the infrastructure that enables plastic-free behaviours. Together with the Youth Ministry, Canada Fund for Local Initiatives and Zero Waste Maldives, Nashfa and her team will soon install three water refill stations at sports venues around the capital. For Nashfa, this isn't just about providing the plastic-free water, it's about raising awareness and providing opportunities to do the right thing.
"I know Maldivians care about the environment – it's how we were raised. With the right policies and infrastructure in place, and enough understanding of the issue, I know that we will make better choices for nature."