CASE STUDY 1: CLEAN BLUE PAROS
The Greek island of Paros sees at least a 350% increase in volume of waste between April and October – the tourist season. Much of this waste is single-use plastic, and too much of it ends up on beach and in the sea. This damages local ecosystems and threatens the island's main source of income – tourism.
Read on to find out how Common Seas is working with Paros to help it turn off the plastic tap and become the first plastic waste-free island in Mediterranean.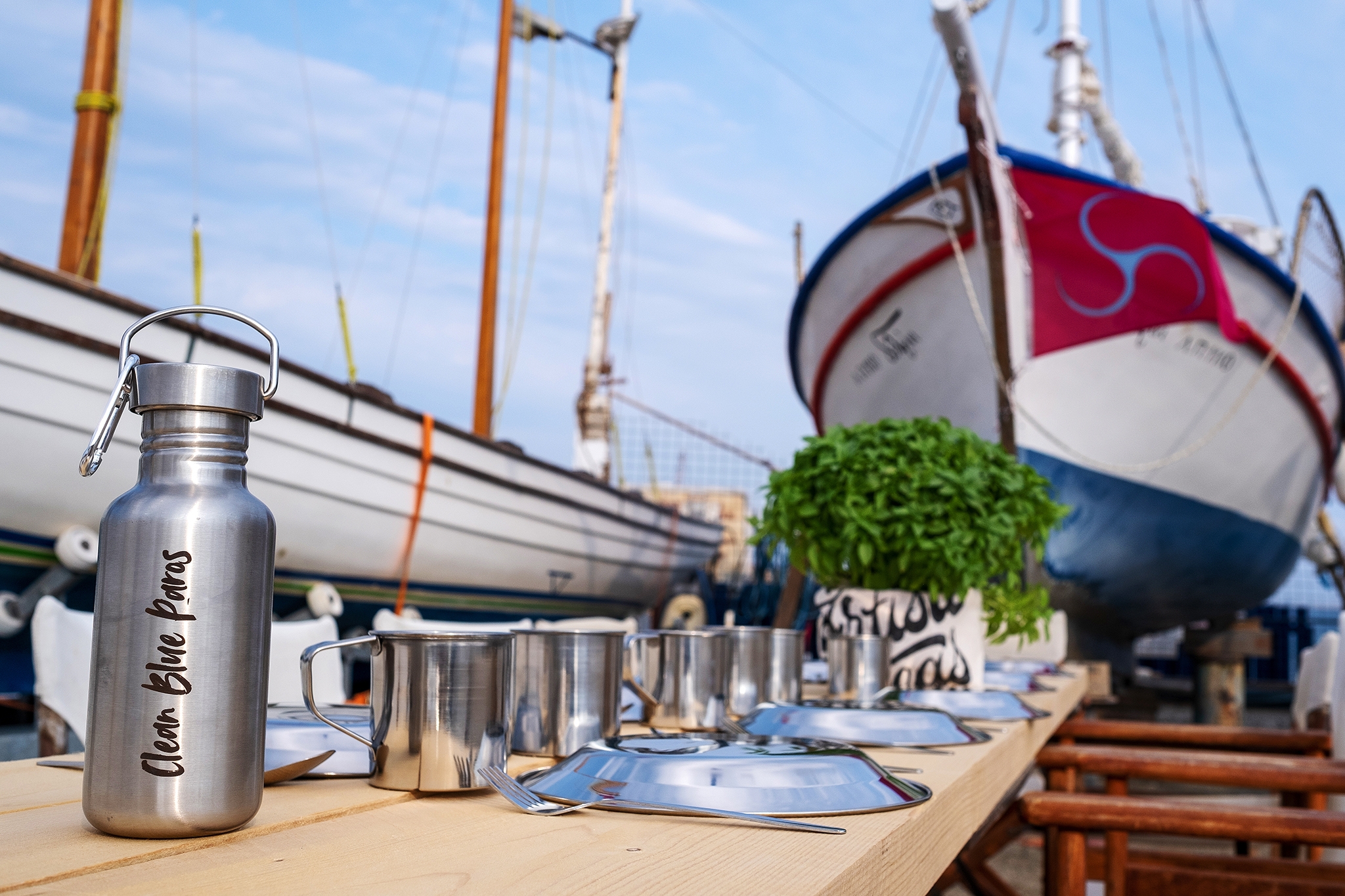 To solve a problem, you must first understand it. On Paros, we investigated the island's unique plastic pollution problem by working with waste managers, and social and marine scientists. We explored how people perceive plastic, how it 'flows' around the island, and which items most commonly end up in our ocean. We used Plastic Drawdown to help us do this and to identify the right portfolio of interventions.
With this insight, we started piloting creative and practical upstream solutions to radically reduce these problematic plastics. For example:


We are supporting over 100 local businesses – cafes, bars and restaurants – to set and fulfil commitments to reduce single-use plastics. And we are designing a reusable cup deposit-return scheme that will design out coffee cup waste altogether.
In schools, we have installed water filtration systems and donated reusable metal bottles to students. This will prevent around 783,000 single-use plastic bottles becoming waste every year. Through Ocean Plastics Academy, we are supporting teachers and students to learn about and reduce other single-use plastics in their schools – embedding behaviour change for the long term.
Plastic bags are commonly found on Paros beaches, so we have established a community enterprise model to make stylish reusable bags using waste textiles (hotel bedsheets).
Paros likes to throw a party! By switching from single-use plastic to high-quality reusable tableware for community events we prevented the use of 50,000 single-use plastic items at a single event.
As well as stopping plastic waste at source, we are also working to stop plastic becoming waste. This means partnering with businesses and local government to implement a separate collection service for the island's most prolific plastic pollutants.
We want everyone to be part of Paros' plastic-free movement, so we run public communication and behaviour change campaigns for locals and tourists. For example, the first thing you see when you arrive on Paros is a beautifully branded airport that raises awareness of plastic pollution and encourages positive behaviours.
Clean Blue Paros is still a relatively new project, but, in response to demand, we are already exploring how to scale the methodology to other islands – in Greece and around the world. We are so grateful for all our partners: collaboration is essential to system change. Thank you in particular to Paros Municipality, local businesses, WATT, HERRco, WWF Greece, and the Cyclades Preservation Fund.